How to Travel with Kids: Parenting Tips for Vacation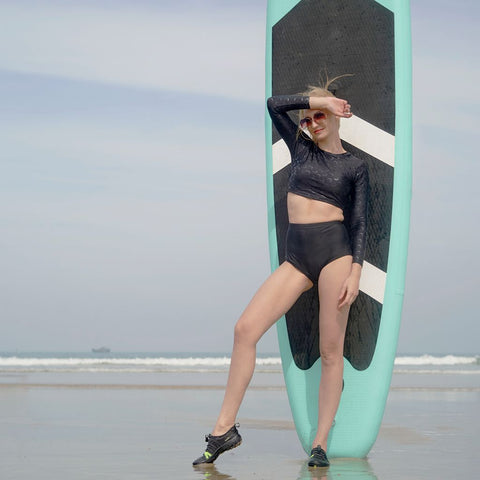 Are you planning on taking a family vacation soon? If so, you're likely wondering how to travel with kids. It can be tricky, but it's definitely doable! In this blog post, we will provide some parenting tips for vacation that will help make your trip a success. We'll discuss everything from packing to keeping your little ones occupied on the plane or in the car. So read on and get ready to take some amazing family photos on your next vacation!
When it comes to packing for your trip, make sure to pack light. This is especially important if you're flying. You don't want to be lugging around a bunch of heavy bags, and you definitely don't want to have to pay for extra luggage fees. Try to pack only the essentials and leave anything that isn't absolutely necessary at home.For shoes, it's also important to keep them as light as possible and preferably easy to store.
Saguaro's E-Series thin-soled beach shoes fit the bill perfectly. Size 47 shoes weigh only about 230 grams and can be twisted 720°. Saguaro's E-Series thin-soled beach shoes are tailored to the shape of the human foot, and they are as light and comfortable as socks. Your child will even forget they're wearing them. It can give your child more freedom of movement. And with an overall lightweight and soft shoes that can twist and turn at will without deformation, you would be like to experience the ease and spontaneity of stepping freely and enjoying the outdoors.Saguaro's E-Series thin-soled beach shoes are made with stretch fabric and a supportive upper that hugs your feet, keeping air flowing and bringing extra mileage of comfort. Keeping your child in motion can be difficult, but with the right shoes, it becomes much easier.
Make sure to bring along plenty of snacks and drinks for your kids. This will help to keep them from getting cranky on the plane or in the car. It's also a good idea to pack some activities for them to do during down times. Coloring books, small toys, and even handheld games can be great ways to keep them entertained.
Finally, don't forget to pack a few items for yourself. This includes things like a good book, your favorite pillow, and anything else that will help you relax on the trip.
Remember, vacation is supposed to be enjoyable for everyone involved! If you follow these tips, we're sure you'll have an amazing time.What are some of your best Parent-kid travel tips? We'd love to hear from you in the comments below!Have a nice trip!